[This post is in Italian and English, grab your cup of coffee or of hot chocolate and enjoy it ;)]
Ho ricevuto questi kit la scorsa settimana, il 21 ottobre per la precisione e fino a quando il corriere non ha citotofonato ho guardato ogni 15 minuti il sito della UPS per vedere a che punto fosse la consegna! Quando so che deve arrivare un pacco di Studio Calico vado in fibrillazione, come stessi aspettando Babbo Natale! Aprire un paccone e scoprire al suo interno il contenuto di ogni singolo pacchettino è troppo bello, una sensazione di immensa felicità :)
Oggi è il fatidico giorno del "reveal", i kit e gli add ons sono disponibili per tutti e la gallery del creative team è online! Io resto sempre a bocca aperta per le meraviglie che ci sono e che mi danno grandissima ispirazione!
I received these kits last week, October 21 to be precise, and as long as the courier does not have knock to my door I looked at the UPS website every 15 minutes to see where it was! When I know I have to get a pack from Studio Calico I go into overdrive, as you were waiting for Santa Claus! Open a big package full of amazing goodies and find in it the contents of each packet is too good, a feeling of immense happiness :)
Today is the reveal day at Studio Calico, kits and add ons are available for all and the creative team gallery is online! I am always amazed by the wonders that are there and each work, each card, each PL spread, each page give me great inspiration!
Con il kit principale Walden - Scrapbook kit
Hello Sequoia Park
La carta con gli alberi mi ha incantata e non potevo non raccontare una delle tante storie del nostro viaggio di nozze in uno dei più bei parchi naturali del mondo, il Sequoia Park (... il titolo manca della k arghhh;)). Io e Massi siamo rimasti affascinati dalla bellezza e dalla grandezza di questi alberi immensi e slanciatissimi! Questa carta mi ha fatto ricordare il nostro stupore, il sentirsi piccini piccini fra quegli alberi e l'immensa sensazione di libertà. Quel badge era troppo azzeccato, assomigliava perfettamente allo scoiattolino che sono riuscita ad immortalare! Ho usato unicamente il kit principale aggiungendo del vellum e i fantastici contenuti digitali di questo mese!
The paper with the trees enchanted me and I could not tell one of the stories of our honeymoon in one of the most beautiful natural parks in the world, the Sequoia Park (... the title misses the k arghhh;)). Massi and I were amazed by the beauty and size of these immense trees! This paper made e remember our amazement, feeling little children between the trees and the immense feeling of freedom. That badge was too well chosen, perfectly resembled the squirrel that I was able to capture! I used only the Main Kit adding vellum and fantastic digital contents of this month!
Trust the Magic
Hehe...Voglio credere in questa magia....Paginetta dall'argomento abbastanza impegnativo.... la foto scattata in due minuti da Massi.. ho preso ispirazione da Pinterest e non ho voluto riempirla troppo, volevo dare maggiore spazio alla foto... anche se ho scritto pochino ... sicuramente dedicherò un bel post a tutto quello che in questo momento sta succedendo... è la prima paginetta, una sorta di annunciazione:) Qui sempre elementi digitali, perchè io adoro i pennelli digitali, qualche carta, qualche abbellimento del kit Walden e tanti piccoli schizzi qua e la:)
Hehe ... I want to trust the magic .... a page with a challenging argument .... the picture taken in two minutes by Massi .. I took inspiration from Pinterest and I did not want to fill it too, I wanted to give greater weight to the photo ... even though I wrote little ... definitely I'll dedicate a nice post about all that's going on right now ... this is the first simple page, a kind of annunciation :) Here increasingly digital elements, because I love the digital brushes, some papers, some embellishment from just the Main Walden Scrapbook kit and many small drops here and there :)
Con i favolosi add ons Pine Hill, Concord e Baker Bridge....
3 Dads to Be?
Pagina 8.5x11, molto semplice, volevo che la foto avesse risalto e che avessi modo di raccontare questa storia. Storia che ha un pò dell'incredibile, siamo amici da parecchi anni e tutti e tre diventeranno papà nello stesso periodo, sono tre ragazzi simpatici, che amano la vita e che credo saranno davvero dei bravissimi papà:)
Page 8.5x11, very simple, I wanted to emphasize that photo and I had a chance to tell this story. A story that has something incredible, to have been friends for several years, and all three will become dads at the same time, there are three nice guys, who love life and who I think will be really very good dads :)
December 2013
Io e il Natale siamo un'unica cosa, io lo amo alla follia! Il mio sogno da sempre è di trascorrerlo in una bella baita di montagna e guardare fuori la neve che cade... spero di riuscire a coronare questo sogno un giorno.. non mi sembra così impossibile no? ;) Photoshooting natalizio dello scorso anno, insieme ad amici, ci siamo divertiti da pazzi! Ne è proprio valsa la pena! Quelle foglie in vellum mi hanno fatto fare gli occhi a cuoricino, l'add on Baker Bridge è pieno zeppo di abbellimenti bellissimi!
Me and Christmas are one thing, I love it madly! My dream has always been to spend it in a beautiful mountain cabin and look out at the snow falling ... I hope to wrap this dream one day .. it does not seem so impossible right? ;) Christmas photoshooting last year, together with friends, we had a lot of fun! It is really worth it! Those vellum leaves made e make heart eyes, the add on Baker Bridge is chock full of beautiful embellishments!
La quinta paginetta in un altro post ;)
I kit del Project Life? Wow! Avrei preso altri 10 Garland Road add ons, tutto natalizio, troppo troppo bello per non parlare dei timbri Holiday e delle cards Christmas che ho miseramente perso e del set di carte Thanksgiving che ho ricevuto con i kits :) Felice io:)
Ho quasi finito tutto ciò che avevo ricevuto e sono al settimo cielo quando uso tutto, mi sento soddisfatta! Ho raccontato due settimane del PL, ho quasi finito tutto ottobre e non ci posso credere, ho riservato il Garland road per andare avanti con il mio December Daily 2013, non vedo l'ora di rileggerlo e vederlo finalmente completo! :)
The fifth page in another post;)
The Project Life kits? Wow! I would have taken another 10 Garland Road add ons, the whole Christmas season, too too good not to mention the Holiday stamps and Christmas cards set that I lost miserably and Thanksgiving cards set that I received with the kits :) Happy me :)
I've almost used all I have received and I am over the moon when I use all, I'm satisfied! I told two weeks of the PL, I'm almost done throughout October and can not believe it, I have reserved the Garland road to get on with my December Daily 2013 I can not wait to read it and see it finally complete! :)
PL 2014 | week 41 (solo kit Walden)
Ho cambiato tipo di page protectors, mi piace cambiare! Big Variety Pack 3 - Design G e il Design F che ho tagliato facendolo diventare 9x12 misura americana:) Ho usato delle foto polaroid, ottenute con un'app che uso quotidianamente ormai, che mi aiuta ad essere al passo con il mio Project Life, mi ricorda di scattare foto ogni giorno:) oltre ovviamente alla mia fidatissima agenda in cui racconto tutto :) L'app in questione è Collect App, scegli il formato, il font, inserisci la data oppure no, a tuo piacere, e poi esporto le foto facilmente nell'album del mio Iphone e da lì sul mio Pc per poterle stampare:)
I changed the type of page protectors, I like to change! Big Variety Pack 3 - Design G and the Design F I cut making it fit 9x12 size :) I used the polaroid photo size, obtained with an app that I use every day now, which helps me to keep up with my Project Life reminding me to take pictures every day :) and of course my beloved agenda to tell everything :) The app in question is Collect App, choose the size, the font, enter the date or not, as you like, and then export the photos in the album of my iPhone easily and from there on my PC to print them :) Just easy and perfect!
Ho mischiato timbri digitali e file stampabili! Li adoro! Mi piace troppo poter avere dei file digitali che posso modificare in photoshop scrivendo con il font che mi piace di più... in questo periodo è Courier New, mi sembra di avere una bella macchina da scrivere :) Riguardare la vita di tutti i giorni mi fa pensare che devo essere grata per tutto quello che ho, anche se mi manca qualcuno tantissimo, penso che questo qualcuno sia sempre vicino a me :)
Con l'add on Firchburg e Garland road (solo una card perchè lo voglio riservare al mio DD2013 ;) hiihhi) e altri elementi digitali ho raccontato un'altra settimana..
I mixed digital stamps and printable files! I love them! I like too much to have digital files that I can edit in photoshop writing with the font that I like the most ... in this period is Courier New, I seem to have a nice typewriter :) Covering the life of every day makes me think that I have to be grateful for everything I have, even if I miss someone so much, I think that someone is always close to me :)
With the add-on Firchburg and Garland Road (just one card because I want to reserve all for my DD2013;) hiihhi), and other digital I told another week ..
PL 2014 |week 42
Una nuova ricettina provata...Le Cinnamon Rolls, pane fatto in casa, pomeriggi in famiglia, momenti bellissimi con la mia sorellina adorata che amo alla follia, un pò di sano shopping con la mia mamma, serate con amici, le mie cosine preferite... in questo momento vado pazza per i cosmetici MAC! Io e mia sorella siamo diventate due vere addicted! Una buonissima colazione americana domenicale, un mini album completato yeah! Una bella settimana davvero!
A new recipe tried ... The Cinnamon Rolls, homemade bread, family afternoons, beautiful moments with my beloved sister whom I love to the moon and back, a bit of shopping therapy with my mom, evenings with friends, my favorite little things ... right now i'm crazy about MAC cosmetics! My sister and I are addicted! A delicious American breakfast on Sunday, a mini album completed yeah! A really good week!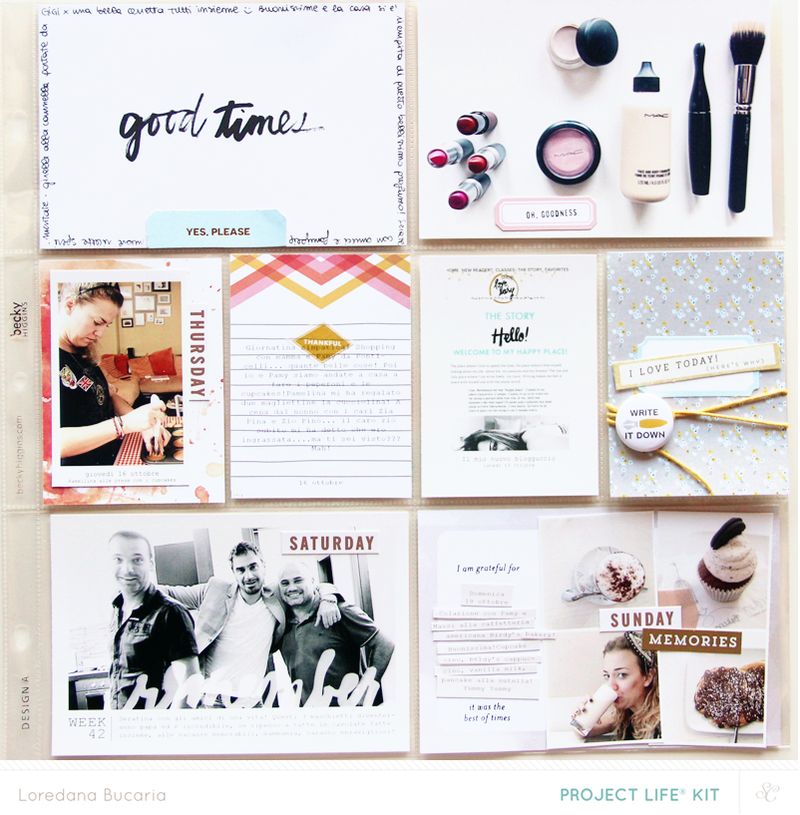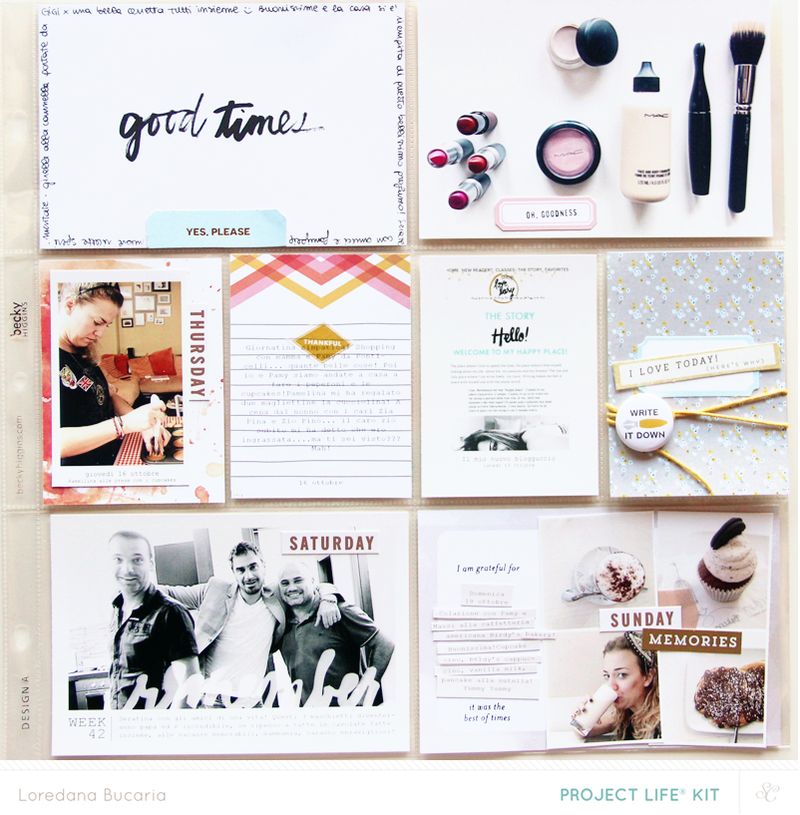 Lo scrapbooking è troppo troppo un mondo meraviglioso, il mio mondo, la mia dimensione della quale non potrei mai e poi mai fare a meno, è una parte di me :)
Scrapbooking is too too a wonderful world, my world, my dimension which I could never, ever do without, it's a part of me :)