this post is in Italian and English, check your language and welcome :)
Camelot è qui!!!! Un Castello pieno zeppo di sorprese da scoprire! Colori romantici e non solo, abbellimenti fantastici! Timbri da rimanere a fiato sospeso, io mi sono innamorata di questi kit! I miei preferiti Excalibur e Guinevere e poi I PL add ons, Lancelot! Il nome di questi kit mi ha fatto sognare, Camelot, Re Artù, Lancillotto, Ginevra, i cavalieri della tavola rotonda, i colori di questi kit mi hanno riportato indietro nel tempo e credo ci siano nomi più azzeccati di questi! Da sogno, per me che sono un'amante delle favole non potevano essere nomi più belli! Ogni mese nuovi prodotti e questo mese nel kit principale di scrapbooking il dauber ink! Bellissimo!
Camelot is here!! A Castle chock full of surprises to discover! Romantic colors and not only, fantastic embellishments and stamps. I'm in love with these kits! My favorites are Excalibur, and Guinevere and then I add ons PL, Lancelot! The names of these kits bring me in a fairy, the fairy of King Arthur and the knights of the round table , dreaming names for dreaming kits! Every month you can find new kinds of products and this month the dauber ink is simply fantastic in the scrapbook main kit!
Questi kit mi hanno ispirato davvero tantissimo e mi hanno dato l'opportunità di immortalare dei ricordi bellissimi! Dedico questi lavori alle mie amiche toscane con le quali ho condiviso una bella avventura parigina, a tutte le persone che li sono state carinissime con me e con le quali ho scattato alcune foto e alla mia amica Simo , il mio "Peppino"!!!!
These kits have inspired me a lot and really gave me the opportunity to capture wonderful memories! I dedicate this works to my friends from Tuscany with whom I shared a beautiful Parisian adventure, to all the people who were so cute with me there and with whom I took a few pictures and my friend Simo, my "Peppino"(do you know Totò and Peppino) ;)!!
Neocolors + Gesso + Modeling Paste + Gel Medium = Mix media background:) Qualcosa di soft e non forte e che metta in risalto la foto e non la nasconda :)
Per il layout shine ho usato il dauber ink per creare un background colorato sul grigio che si fondesse con i neocolors e con il tulle azzurro.
For the following page I used the Dauber Ink from the main kit, perfect to create a soft background and for the blue tulle :)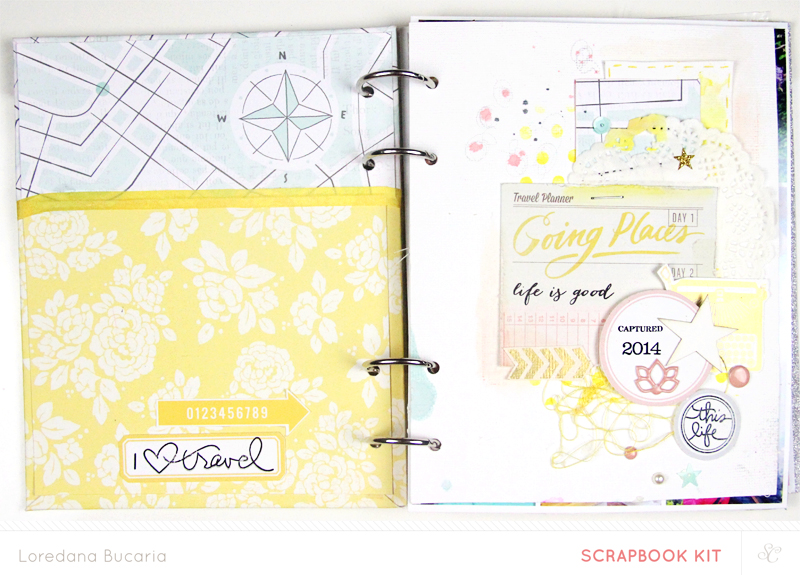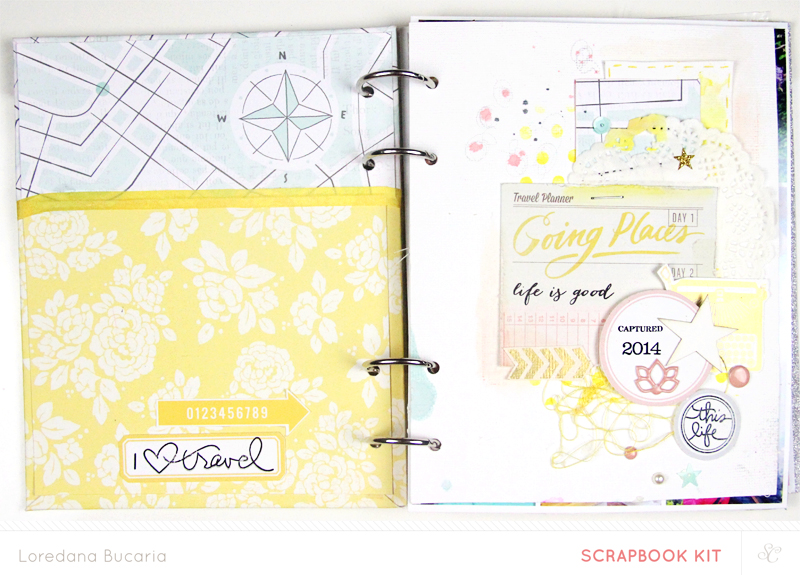 Studio Calico con Magglie Holmes
And if you are searching for new ideas to make a lovely mini albums the brand new class at Studio Calico with Maggie Holmes is just for you! :)\
Il kit è meraviglioso ed è Excalibur! Da non perdere!
It's Excalibur,you will find a lot of amazing things!
E per finire i kit del Project Life questo mese sono pieni di abbellimenti favolosi! Me ne sono innamorata appena aperti!!!
And last but not the least my latest Project Life Spread! The main kit is full of adorable embellishments to use! In love! Completely!
Lo shop di Studio Calico si è arricchito di nuovissimi prodotti anche questo mese e i kit sono stupendi! Io gli add ons non me li farei proprio scappare!
The Studio Calico shop is full of amazing things and new products to try and die for! The Add ons are really spectacular! To have a coordinated kit is for me a great thing, all is coordinated, from colors to embellishments. Come in this fabulous castle with us.