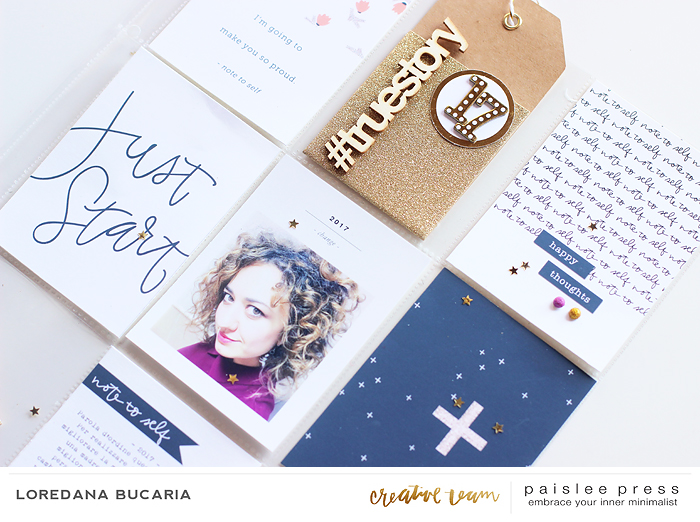 Buon pomeriggio ovunque voi siate! Finalmente mostro qualcosa di nuovo su questo mio dolce posticino abbandonato da mesi! Il mio primo lavoro per Paislee Press! Era un bel po' di tempo che volevo lavorare con Liz e finalmente ecco realizzato il sogno! Ho sempre adorato il suo stile pulito, ordinato e brillante, nonché ammirato il fatto che sia riuscita a realizzare i suoi sogni costruendo dal nulla qualcosa che veramente amava! I suoi prodotti digitali mi piacciono da morire e nonostante la parte di editing in photoshop sia bella lunga ... io sono una tartaruga a creare, alla fine credo sia una delle mie fasi preferite durante la creazione delle mie pagine! Adoro raccontare le storie di tutti i giorni, non voglio perderne nessun pezzo e lo scrapbooking è il modo in cui riesco a farlo meglio!
Quest' anno solo energie positive, sorrisi e via avanti per realizzare con caparbietà e tenacia i miei sogni, terminare ciò che ho tralasciato e vivere!
Cosa ho usato?
Good afternoon everyone wherever you are! Finally I show you something new on this my sweet little place left for months! My first creation for Paislee Press! It was a lot 'of time I wanted to work with Liz and finally the dream is realized! I've always loved her clean style, tidy and bright, and admired the fact that she managed to fulfill her dreams by building something from nothing that she really loved! I like her digital products to die for and although the portion of editing in photoshop is pretty long ... I'm a turtle to create, in the end I think it's one of my favorite stages during the creation of my pages! I love to tell the stories of every day, I do not want to lose any piece of them and scrapbooking is the way I can do it better!

This year only positive energy, smiles and so forth to achieve with determination and tenacity my dreams, finish what I left out and live!
Questa la seconda pagina del mio PL 2017, sempre formato 9x12 pollici americano, mi piace troppo e lo trovo più comodo per me che non ho sempre tantissimo tempo e che la sera spesso svengo dal sonno addormentandomi mentre porto a nanna il pupo! Ho detto tutto! LOL
This is the second page of my PL 2017, always t 9x12 inch American size, I like too much and I find it more comfortable for me that I have not always much time and that often faint from falling asleep at night sleep while bringing the baby to bed! I said everything! LOL
Questa è la prima pagina! Fatta usando pochi abbellimenti e le journaling cards del kit Positive Vibes! Una palette di colori che mi è molto piaciuta nonostante pensassi non essere nelle mie corde! Piccoli dettagli oro qua e là:)
This is the first page! Done using a few embellishments and journaling cards from the Positive Vibes kit! A palette of colors that I really liked despite not thought to be in my comfort zone! Small gold details here and there :)
Bene, spero vi siano piaciute le mie prime due pagine PL, e voi avete iniziato? Che formato avete scelto? Che tipo di approccio? Settimanale? Spunti fotografici da suggerire? Io ve ne parlerò in un prossimo post ;)
Well, I hope you enjoyed my first two PL pages, and did you have start? What format did you choose? What kind of approach? Weekly? Photo ideas to suggest? I'll get to in a future post;)